Vinci Systems
---
In today's changing telecommunications market, businesses must provide innovative and customer-demanded services. For over 30 years, NACT has been providing the benefits of tried and true telephony applications, innovative consumer features and scalability that future-proofs all service delivery needs in a cost effective manner.
Cost-Effective Scalable Applications
The Vinci provides global applications such as Prepaid Calling Cards, Automatic ANI Authentication, pre and post paid billing, wholesale transport and management, fraud control, and Least Cost Routing. The Vinci is a scalable solution that can be expanded to support up to 32,640 simultaneous calls via a redundant call control host and up to 80 MTN Gateway nodes. This configuration allows service providers to start out at a capacity that meets current needs and expands seamlessly and continuously as a customer base grows.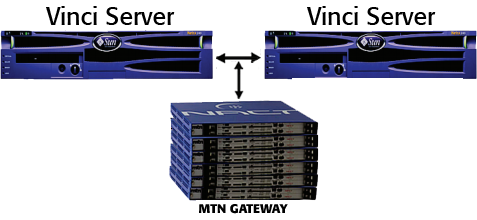 Real-Time Operational Support
With NACT's Vinci Solution, multiple MTN Gateway nodes become a single functional unit; slashing overhead and dramatically simplifying provisioning and management tasks. The Vinci's efficient processing capabilities greatly reduce costs and administration of network infrastructure elements such as SS7 links (or connections) to individual gateway switches. Fewer SS7 links equate to easier management, fewer points of failure, and reduced costs.
Protect Business-Critical Resources
The Vinci uniformly and universally applies fraud control parameters such as usage limitations, blocked destinations or credit card recharge restrictions across all gateways. The Vinci Solution also checks potentially fraudulent activity in all gateways against all usage constraints. These comprehensive fraud control features protect the service providers by minimizing costs incurred by fraudulent activity.
The Vinci's redundant data storage protects critical revenue-generating information, such as call detail records (CDRs) and prepaid transactions.
The NACT Vinci Solution seamlessly links nodes with high call capacity in minimal space. The Vinci's capacity and performance delivers proven number authentication, authorization, and wholesale carrier applications, making it an extremely scalable and cost effective foundation for your business' growth.
Click here to see our brochure containing a list of applications and features.
The Vinci now has a new system for handling media. Visit the Vinci II page to learn more.